Every month I get questions regarding various professions, so when I got acquainted with Adrian Rubin, a freelance creative director from New York, I could not help but interview Adrian. I do hope it will help you better understand what it's like to be a creative director.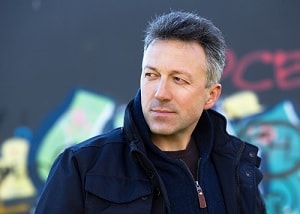 From his childhood in the semi-rural area of Beacon, New York to one of the most respected and busy creative directors in the U.S., Adrian Rubin is on what might seem like a long journey to some, but he feels that building his creative business from the ground up is the most rewarding path he could have taken. Adrian Rubin fell in love with the Brooklyn area of New York soon after moving there after college and worked his way into the creative industry through sheer hard work and a determination not to be rejected from a career he loved.
Have you always felt you were creative?
Creativity can take many different forms with most of us looking at the arts and drawing or painting as the main areas most of us are creative. Over the years, I have seen creativity can take different forms of inventing new products and services to developing a successful corporate brand. In terms of my artistic endeavors, I enjoyed drawing at school and found art to be my favorite subject for the majority of my education at high school and college when I seriously began to assemble a portfolio of work.
What drew you to a role as a creative director?
To be honest, I was looking for a full-time job with an advertising agency but found it difficult to get my foot in the door. A small agency I kept on returning to in the hope of a job eventually offered me some small assignments as a freelancer as they couldn't afford to pay me a full-time salary. The agency liked my work and continued sending me small projects until I was finally given a project as creative director and began my freelance career from there.
How difficult has it been to establish yourself in your chosen profession?
When I left college I moved to Brooklyn and took on any job I could find which mostly meant working in customer service. I couldn't see myself enjoying customer service roles for the rest of my working days so I pushed hard and knocked on as many doors as I could find to try and begin my career but it was still a challenge to create a freelance career in the crowded New York market. I've lived in Brooklyn for just over a decade and spent half of that time battling to establish myself as a creative and business force in the industry.
Which forms of marketing do you undertake for your business?
I've been very lucky in never having to really take out many ads or source work for the last few years. My first freelance role with a small agency went so well word of my work was passed on to various other marketing groups who began calling asking me to take on their work. The only areas I have taken a real interest in when it comes to marketing are social media platforms including LinkedIn to stay in touch with business contacts and Instagram where my work can be displayed for clients to view.
Stress is a major problem for entrepreneurs, how do you cope with working as a freelancer?
When I was first set out in my career I would feel stressed and I think we all face the problem on a regular basis and have to find our own ways of coping. I recently joined a yoga class in Brooklyn which I attend most mornings before I begin my working day and have felt a large amount of the stress and worry I have about my career disappear from my life. The focus I have after completing a yoga class also makes a major difference in the way I approach each day without spending time worried about factors of my job I cannot control.
Could you recommend any business-focused books for budding entrepreneurs?
I really like the approach to the business of Sir Richard Branson he sets out in his book, "Losing My Virginity". Branson has moved from magazine publishing to owning a record label and operating an airline and rail company under the Virgin brand. Recently, I read Vijay Eswaran's "Two Minutes from the Abyss" and found the approach to balancing business, philanthropic, and personal activities impressively fresh in their approach.
What kind of projects excites you the most?
I've been looking for different projects which allow me a little more creative freedom in recent years. I love more open-ended projects where clients allow me the freedom to express myself. Don't misunderstand me, many of my projects are tightly-focused and on the conservative side of the spectrum but I do enjoy those moments where a client tells me about their brand and asks me to come up with a concept to fit within their already existing artistic framework.